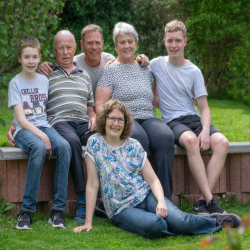 A unforgettable time on Simmelehof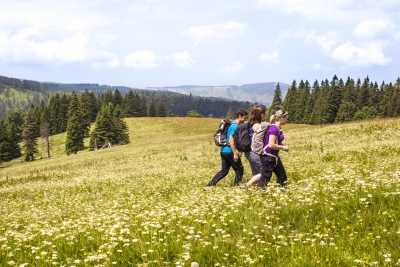 Nature Lovers
You can set off on all sorts of different walks and hikes right in front of our house.
The specialist paths and premium hiking trails in the High Black Forest are a must-see.
This is where the natural experiences and the cultural and culinary delights of the Black
Forest meet.
Further information about the hiking trails can be found here:
www.hochschwarzwald.de/Wandern
For those who prefer to sightsee by bike, the Bähnle-Radweg or the Südschwarzwald-
Radweg bicycle paths provide you with plenty of fresh air.
Our region also has much to offer for winter travellers:
From the cross-country skiing trails to the ski lift and the toboggan hill, you can discover
it all in Lenzkirch. And those who want to warm up afterwards can find themselves a spot
by our fireplace.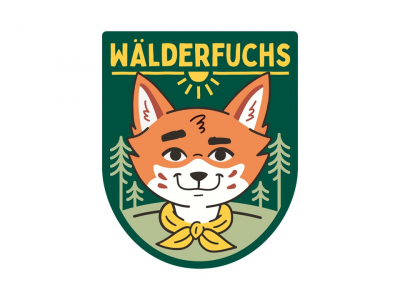 Family Vacations
As family-friendly hosts, we offer unforgettable holidays at Simmelehof.
For our smaller guests:
- playground with climbing tower
- ping-pong table
- trampoline
- play room
- children's program with the Wälderfuchs Team
For family time:
- garden house
- wood-burning grill
- common room
We are equipped with:
- crib
- changing mat
- toddler toilet seat
- high chair
- bottle warmer
- baby bathtub
- laundry facilities
- storage room for prams/strollers
Children's hiking trails, excursion tips, Ortsrallyes (hiking games for children), and
geocaching tours in the High Black Forest are also great value for families.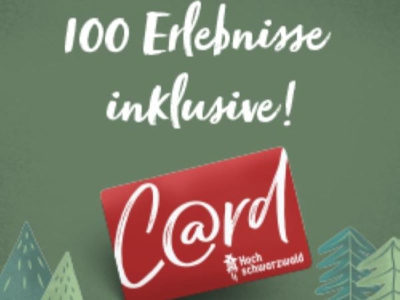 Get the digital Red Card here!
With the digital Red Card you are able to design your vacation individually and according to your own wishes. Enjoy numerous free basic services (e.g. museums, outdoor pools, adventure golf or cross-country skiing) and book plus services for a discounted fee (e.g. Badeparadies Schwarzwald, Hasenhorn Coaster or ski lifts), You could also enjoy exclusive experiences which are only available in the Black Forest!
Further information: hochschwarzwald.de/card
My Top Tip!
Book 14 Days, Pay for 13
Ask us about "14 for 13". For any stay of 14 days, we offer you one day free as a thank you for your trust in us.
Schwarzwaldhaus Simmelehof
Bonndorfer Straße 10 |  79853 Lenzkirch
Telephone +49 (0)7653-9609803
info@simmelehof.de
Imprint

Schwarzwaldhaus Simmelehof Waldvogel GbR
Bonndorfer Straße 10
79853 Lenzkirch
+49 (0)7653-9609803
info@simmelehof.de

This page was created with TWebsite . With it can every touristic service providers, whose data are, through the destination, already available in the booking system TOMAS®, quickly and easily manage a responsive Website with integrated booking process.

Disclaimer

Datenschutzerklärung

Datenschutzrechtlich "Verantwortlicher" gem. Art. 4 DSGVO für die Verarbeitung Ihrer auf dieser Webseite eingegebenen Daten ist die im Impressum angegebene Stelle bzw. Person. Im Folgenden bezieht sich "uns" und "wir" auf den Verantwortlichen. Die Adress- und Kontaktdaten entnehmen Sie bitte ebenfalls dem Impressum.

Diese Seite setzt einen Cookie, eine kleine Textdatei, die in Ihrem Browser abgespeichert wird, um die Kommunikation Ihres Browser mit dem Buchungssystem sicherzustellen. Der Cookie wird automatisch gelöscht, wenn Sie Ihren Browser schließen.

Ihre Daten als Gast werden ausschließlich zur Erfüllung des Vertrags, den Sie mit uns eingehen, verarbeitet. Ohne dass Sie uns Ihre Daten zur Verfügung stellen, können wir keinen Vertrag mit Ihnen schließen. Insoweit Daten aus diesem Vertrag steuerlich relevant sind, werden sie auf der Grundlage einer gesetzlichen Pflicht bis zum Ablauf der Aufbewahrungspflicht gespeichert. Die Speicherung Ihrer Daten erfolgt bei einem von uns beauftragten Dienstleister, der auch unsere Webseite erstellt und wartet. Dieser Dienstleister kann auf unsere Weisung hin auf Ihre Daten zugreifen.

Als von unserer Verarbeitung Ihrer Daten betroffene Person haben Sie Rechte auf Auskunft, sowie auf Berichtigung und Löschung Ihrer Daten. Des Weiteren haben Sie ein Widerspruchsrecht gegen und das Recht auf Einschränkung unserer Verarbeitung Ihrer Daten, und ein Recht auf Datenübertragbarkeit.

Um Ihre Rechte uns gegenüber geltend zu machen, nutzen Sie bitte die Adressdaten aus dem Impressum. Sie haben ein Recht, sich über unsere Verarbeitung Ihrer Daten bei einer Aufsichtsbehörde zu beschweren.